Homelessness was ENDED for 105 Family Promise families in 2021!
Homelessness was PREVENTED for 585 Family Promise families in 2021!
STABILITY SERVICES for 3,019 households.
Family Promise provides emergency and permanent housing, homelessness prevention and stability services such as childcare, rent and utility assistance, transportation, life skills, jobs and so much more!
2021 IMPACT HERE
Enjoy a few of our 2021 success stories below!
---
Kiza and Aline are from Burundi, a country in East Africa.  In 1994, their country was experiencing ethnic genocide and constant violence.  With the help of a human rights group, Aline, then a young girl, sought refuge in Belgium.  Aline later met Kiza, who was from a different tribe in East Africa, and they married and had three children together.  Then in 2016 the family immigrated to the United States.  They lived in Texas until Kiza received an employment opportunity in Indiana.  They then moved to Indiana and were doubled-up with Kiza's family but there were too many people in a small space and Aline reached out to us for any possible relief we could offer them. 
We quickly moved them into their own hotel room here in Plainfield and got to work immediately looking for housing.  There were many times over the last few months when Kiza and Aline became very discouraged and felt like a home of their own just wasn't going to be.  We told them to keep fighting and that they were no longer fighting alone.  Aline would sometimes tearfully ask me, "Melody, how does one survive a life such as this?"  We would tell her she is a strong woman and that's how she's survived, and that this hardship would also pass and soon she'll be able to come back and help other mothers who are in the same situation she's now in.  
Helping others struggling financially and other immigrant mothers is something Aline is very passionate about.  While Kiza spent his days on the road driving a truck, Aline started a new business helping individuals boost their credit score.  She explained to us that they knew nothing of "credit" before coming to the United States and were not prepared for the barriers low credit would bring.  In the process of researching ways to improve her own credit, she was motivated to join a company that helps with this.  She already had a handful of clients by the end of the weekend because she is that motivated! 
The biggest joy for this family came on August 18 when we were notified that a private landlord, we partner with had approved them for a three-bedroom rental home in Plainfield!  As soon as we shared the news with them, they said, "Hallelujah! Can we pack now?!"  Their son will get to continue in the school he's attending, and they will not all be on top of each other in a single room anymore!   Huge thanks to this landlord who made this possible!
And thank you to all the volunteers who have gotten to know this family and have pitched in with hot meals, birthday cakes, and cards of encouragement.  Little things like this are really the big things.
---
Brandy and her eighteen-year-old son lived in their rental home in Danville for 13 years until the   owner sold the house- High School where he is an Honors student.  He was also recently Student of the Month at school and was given an award by the Danville School Corp, recognizing him based on Citizenship, Character, Service, Responsibility, Courtesy and Respect.  He is currently applying for college and is hoping to study Physics.  When Brandy received the notice to vacate, she was very scared because she is on a fixed income and Danville and Danville Schools is all her son has ever known.  She feared what would become of them with nowhere to go and facing the possibility of ending up at a downtown Indianapolis shelter, away from home. 
As soon as Brandy and Aaron entered our program, we began looking for housing for this small family.  Luckily, an income-based apartment had just become available, and after a long compliance process, they received their approval and signed their lease yesterday!  We are so glad they found us, and we are so grateful to all our volunteers who supported this family with hot meals and encouragement.  We will stay connected with Brandy and Aaron and continue to help them however we can!
---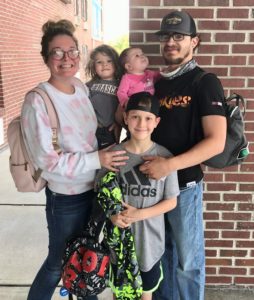 Stephanie and kids moved in with us in February.  Her husband Tito (a military veteran) was finishing up his CDL training out of state and the doubled-up situation she and kids had planning on staying in until his return did not work out.  Dad ended up finishing up his training and went to work for a trucking company based out of Texas and started by a friend of his from the military.  It took a lot of planning to find this family housing in Texas and take care of all arrangements while dad was on the road and mom in Indiana.  But we were able to find them a rental close to their military friends in San Antonio and in the city where Tito will be returning often.  We will miss smelling the bacon Stephanie cooked every morning and will miss seeing the kids every day, and this is a very long move so we will not be able to be as involved as we are with most of our graduate families, but we share this family's excitement for this new life they will build in Texas!  Thank you to everyone who supported this family, held baby Mia, waited for the bus with Bentley and cooked hot meals for them throughout their stay with us!  You became family to this family!
[pt_view id="7628aebkgr"]