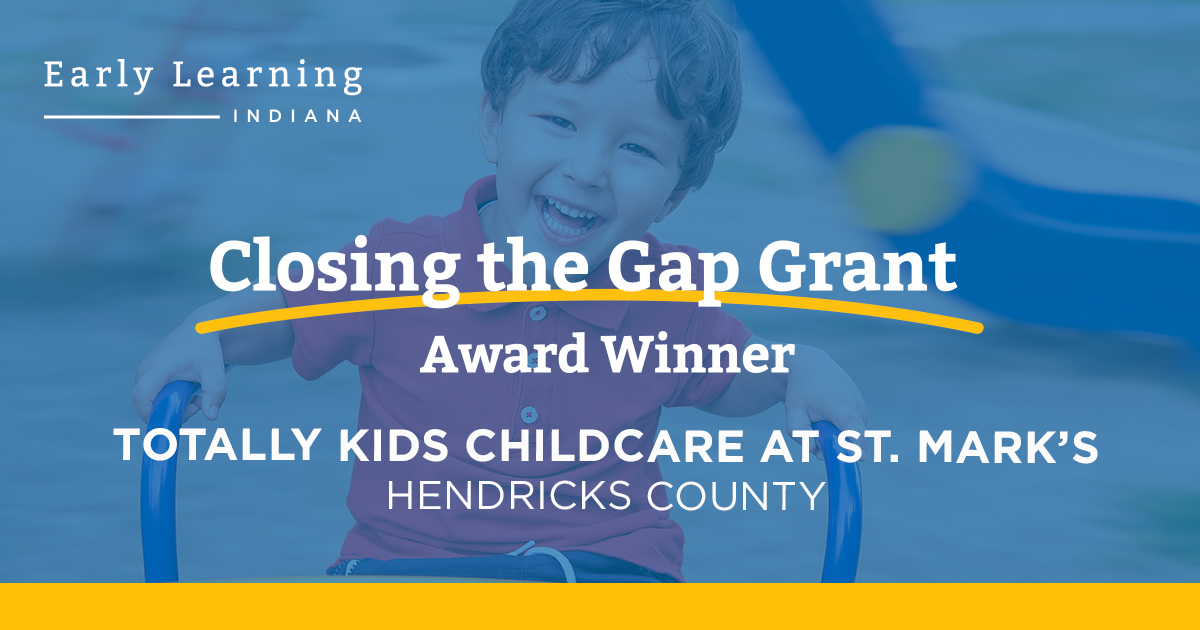 Family Promise of Hendricks County/TOTally Kids Childcare awarded $100,000 grant to Close the Gap in Hendricks County
Grant will help increase child care access, choice and affordability
 Plainfield (Nov. 30, 2021) – Early Learning Indiana today awarded a $100,000 grant to Family Promise and TOTally Kids Childcare in Hendricks Co. as part of the $1.7 million Closing the Gap grant fund to address local child care access issues, increasing capacity and quality, and ensuring affordability and choice for families. The grant fund was established after Early Learning Indiana released "Closing the Gap: An Assessment of Indiana's Early Learning Opportunities" in August 2021. The report shed light on the child care access issues facing Indiana families.
"The challenge is great, but the opportunity to build a system of more equitable access for Hoosier children is even greater," said Maureen Weber, president and CEO of Early Learning Indiana. "Our Closing the Gap grant recipients have put together collaborative solutions to solve some of the greatest barriers to access to high-quality early learning in their communities, and we are proud to help kick start their work."
Grant recipients submitted applications outlining how they would address their community's biggest child care access issues. Family Promise and TOTally Kids Childcare will use its $100,000 grant to expand care to include an additional 30 children, providing affordable child care in Hendricks County. This grant will help with expansion in our building, establishing new classrooms for our students and providing them with an appropriate early learning experience. This is helping our low income community in many ways! Childcare is key to sustainable stability for struggling families.
Julie Randall, Family Promise, "We are so pleased to be a recipient of this grant. It will help us immensely in our endeavors to bridge the gap between homelessness and stability. Childcare is the heart of stability!"
Early Learning Indiana's Closing the Gap report centered around the Early Learning Access Index, which helped qualify and quantify child care access throughout the state, assessing the additional factors of quality, affordability and choice as well.
Notable findings of the report included:
The statewide Early Learning Access Index is 60.6 out of 100, equaling moderate access to early learning and care statewide​. In county, the Early Learning Access Index is 34%.
In more than two-thirds of Indiana counties, existing child care capacity can serve fewer than half the children ages 0-5 who need care.
14 counties have no high-quality infant/toddler care.
The 18 grant recipients represent 18 unique counties in Indiana. In total, their proposals will create 926 new child care seats for 269 infants and toddlers and 657 preschool and pre-K children.
View a PDF of awardees, their locations and project descriptions here.
The funding was made possible through a 2019 grant from Lilly Endowment Inc. to support Early Learning Indiana's statewide work to improve accessibility to high-quality early learning programs in Indiana.
###
Family Promise of Hendricks County
Family Promise ensures everyone in Hendricks County has a home they can afford and the oppounity for economic stability. Providing emergency and permanent housing, homelessness prevention and stability services such as child care, jobs, transportation and life skills.  Our two Resource Center in Plainfield and Brownsburg serve as hubs for those struggling.  Learn more at FamilyPromiseHendricksCount.org.
TOTally Kids Child Care of St. Mark's
We believe that quality care is a partnership and should be assessable and affordable to all in our community. At TOTally Kids Child Care of St. Mark's, it is our mission to partner with families to provide children with developmentally and age- appropriate activities and materials in a safe and loving environment. Learn More at TOTallykidsChildcare.com.
About Early Learning Indiana
Early Learning Indiana is Indiana's oldest and largest early childhood education nonprofit, providing leadership, advocacy and early childhood education services to continually improve the early learning landscape in Indiana. Today, Early Learning Indiana operates 10 high-quality Day Early Learning centers, a network of premier community-based schools used to advance the science of early learning, train the next generation of teachers and leaders, and instill essential skills in the children we serve. Through regional and statewide programs, the organization enables early learning providers to build capacity, transform operations and improve learning outcomes. Learn more at EarlyLearningIndiana.org.